12-Month Liquid CD Promotion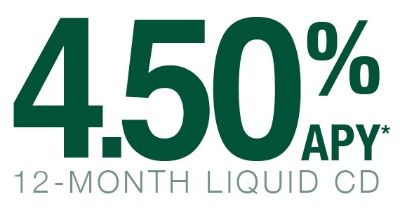 A
liquid CD with a great rate & the ability to keep your money flexible.
Features
Allows for up to 4 withdrawals during the 12-month term*
A competitive rate to help grow your assets
Liquidity that fits unique financial situations, with access to your funds.


Complete the form to learn more about this 12-Month Liquid Certificate of Deposit (CD) rate!
* This 12-month CD has a 4.50% annual percentage yield (APY) with compounded interest credited at maturity. Rate effective as of 9/18/2023. Rates are subject to change. $5000 minimum deposit is required to open. Must maintain a minimum balance of $1000 in the account each day to obtain the disclosed APY. If the balance falls below $1000, the account will close. Penalty for withdrawal within the first 6 days of opening the account but allows up to 4 withdrawals during the term of the CD. Each withdrawal must be a minimum of $1000 and must occur more than 6 days following the previous withdrawal.