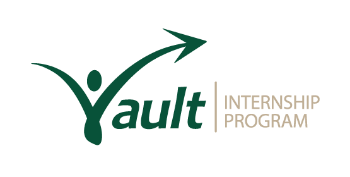 We Invest in Our Employees
Vault your future career as we unlock practical experiences during your 12-week paid internship. Meet our leaders and customers while learning what careers in banking involve. 
Whether directly related to banking, technology, data engagement, human resources, or marketing, we offer a variety of internships throughout our organization. You can bank on walking away from your experience with a greater knowledge of your anticipated career field, confidence in the skills you build, and connections to continue that experience for a lifetime. 

Gain professional work experience while exploring potential careers.
On-Boarding Program
Internship-Focused Development Sessions

Job Shadowing & Mentorship
1:1 Support from Managers

Learn
what makes us passionate about our customers and banking.
Culture Camp
Volunteer Hours
720 Employees & Growing

We invest in your education while supporting a well-rounded lifestyle.
Flexible Intern Scheduling
Tuition Reimbursement
Student Loan Repayment
Internship Course Credits
Current Internship Opportunities
All internships require employment to be onsite. 
Fall 2023
Fall 2023 or Spring 2024
Qualifications
To be qualified for an internship with First Bank & Trust, candidates must:
Be at least 18 years of age
Be actively enrolled in higher education at a University or technical school

September 18: Dakota State University - Prep with the Reps
September 21: Northern State University - Fall 2023 Career & Internship Fair
September 29: St. Thomas University - Fall Career Fair
October 3-4: South Dakota State University - CAFES Career Fair
October 4: Dakota State University - Fall Career & Internship Fair
October 5: University of Minnesota - Carlson School Career & Internship Fair
October 10: Minnesota State University Mankato - Career & Internship Expo
October 25: University of South Dakota - Career Fair 2023
October 26: Lake Area Technical College - Fall Career Expo
October 26: University of Sioux Falls - Career & Internship Fair
November 1: South Dakota State University - Management, Economics, & Communication Career Fair
Don't see the internship opportunity you're looking for? Let us know what you're interested in!
(Disclaimer: This is not an application for hire. All applications must be submitted through our
online application.
)
First Bank & Trust is an Equal Opportunity, Affirmative Action employer. All qualified applicants will receive consideration for employment without regard to race, color, religion, sex, sexual orientation, gender identity or expression, national origin, disability, or status as a protected veteran. Read our complete Equal Employment Opportunity Policy Statement. Applicants who would like to request reasonable accommodation to the application or interview process should call Human Resources at 800-843-1552 or email hr@bankeasy.com.