November 14, 2023
Did you know that fake bank messages are the most reported text scam?*
Watch for these red flags of phishing in emails, calls, and texts:
They ask you to open a link. (DO NOT click it!)
They use urgent or fear-inducing language.
They send an attachment. (DO NOT open it!)
They request personal info like PINs, passwords, or Social Security numbers. (DO NOT provide it!)
They pressure you to log in to or send money with payment apps. (DO NOT do it!)
A fraudulent text may look similar to the following: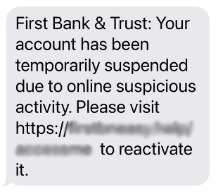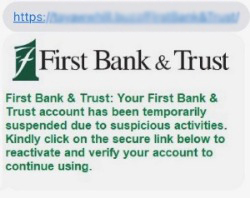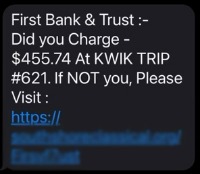 Strengthen Your Account Security in 5 Steps
We're here to help you keep your First Bank & Trust accounts secure. Consider completing these five quick steps in your Digital Banking account to help protect yourself from fraud.
#1: Review and update your personal information.
Did you move or change your phone number or email address? Make sure your account reflects your current information (found under Settings) so we can contact you if something unusual is detected on your account(s).
#2: Reset your password.
Has it been more than six months since you changed your password? It's quick and easy. Be sure to use a combination of words, numbers, symbols, and both upper and lowercase letters, and avoid popular generic passwords like "password1234" or your birth date, Social Security number, or phone number.
#3: Enable face or fingerprint log-in.
Activate biometric log-in in the app to use your face or fingerprint with our Digital Banking mobile app. It's a convenient and ultra-secure way to access your information.
#4: Set up balance and transaction alerts.
Add customized alerts to help monitor account activity such as purchases, transactions, or withdrawals so you can catch unusual activity and contact us right away if something doesn't look right.
#5: Check your balance and account activity regularly.
Even with alerts, you should keep an eye on account balance and activity. If you notice unusual activity, contact us right away.
Visit BanksNeverAskThat.com for resources and to learn more about phishing scams.
If you clicked a link or think your account has been compromised, contact us immediately.
Call us toll-free at
800.843.1552
or ​send us a message in
Digital Banking
.